Monday, March 28, 2011 at 11:30AM
This article originally appeared on Patch.
Yesterday was the final day in business for the venerable Video Forum, on Seventh between Garfield and Carroll. The independent video store, one of the neighborhood's last, had been renting their space on a month-by-month basis since their lease expired in December, and even though they'd been offered a new deal they just couldn't maintain the overhead. Business had been down for months, and a couple weeks ago they finally decided to pull the plug.
The Video Forum first opened its doors in the halcyon days of 1996, when mega-chains like Blockbuster were booming but there was still plenty of room in the market for local independent video stores. The owner, Jay, owned another store, Video Edge, where the T-Mobile store is now on Flatbush Avenue near Seventh, as well as Park Heights Stationers next door, which also closed recently.
The Video Forum was perhaps best known for its loyal, knowledgeable employees, many of whom had been working there for five years or more. I spoke with Sean O'Brien, who'd been there for five years and has a degree in screenwriting, and he lamented the loss of the person-to-person communication that brick-and-mortar video stores provide.
"There's a real benefit to being able to walk into a video store and speak to someone who can guide you to films that you might not have heard of or come across otherwise," he said. "Netflix offers suggestions, but it's not personal."
He was also sad to be saying goodbye to his loyal customers, many of whom had been coming by since the store first opened. "We had a real community of regulars here; it was a place for movie lovers in the neighborhood to gather," said O'Brien. "It's the end of an era."
"We knew it was bad when winter hit, that's when we first really noticed a change," he said. "Winter is the time when people like to stay at home and watch a movie, and it was traditionally when we'd have the most business. But if you don't have to leave your house to watch a movie, you're not going to."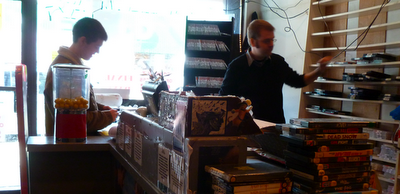 Longtime employee Sean O'Brien, behind the counter.
They'd been selling off as much of the merchandise as possible since announcing their closure, with both tapes and DVDs going for $5 each. Their last shipment of DVDs came in at the beginning of March, and Sean had to laugh when naming the final DVD they added to their inventory:
Jackass 3.
Jay has decided to get out of the retail business, according to Sean, and will focus on managing real estate that he owns in the neighborhood. As for O'Brien, he's left with no choice but to give in to the new industry leader.
|
by
Here's Park Slope
|
Post a Comment
tagged
Business of the Week,
Closed for Business
in
Storefronts