Brooklyn is a borough of New York City. It has been the subject of many books, songs, and movies. It might be because Brooklyn is one of the most diverse places in all of America. Of course, you have your expensive neighborhoods like Park Slope and Carroll Gardens. But it also offers cheaper options too, such as East Flatbush or Bushwick.
There are many reasons why a lot of people and families have made a move to Brooklyn, but you may still be on the fence about it. Here, we'll cover everything you need to know about whether or not Brooklyn is right for you!
A Quick History of Brooklyn
The first people to live in Brooklyn were the Lenape Indians. The Dutch colonized it and named it Breuckelen, which means "broken land." In 1898, Long Island became part of New York City when Brooklyn was consolidated with Manhattan, Staten Island, and Queens. It has since become one of America's most popular places to visit or move to.
Many different cultures have made their home in Brooklyn over time! Some examples include Italians, Jews, Germans, Puerto Ricans, and Dominicans. Today there are also large amounts of Russians and Chinese throughout Brooklyn. It's incredible to think that there are about 300 languages spoken in the New York borough.
A lot more recently, many hipsters have moved into Greenpoint because of the quirky cafes and hip brunch spots. But no matter where you go, you'll see the rich history of Brooklyn's past that has made it one of the most ethnically diverse counties in the United States.
Famous Neighborhoods
Manhattan may be the borough you think about more often when you think of New York City, but Brooklyn is the largest of the five boroughs. A lot of the locations you might see on the big screen take place in Brooklyn.
Park Slope
This is a very affluent and trendy neighborhood that is also family-friendly. It has excellent public schools, low crime rates, and beautiful brownstone buildings. Not to mention great restaurants to eat at with friends or family.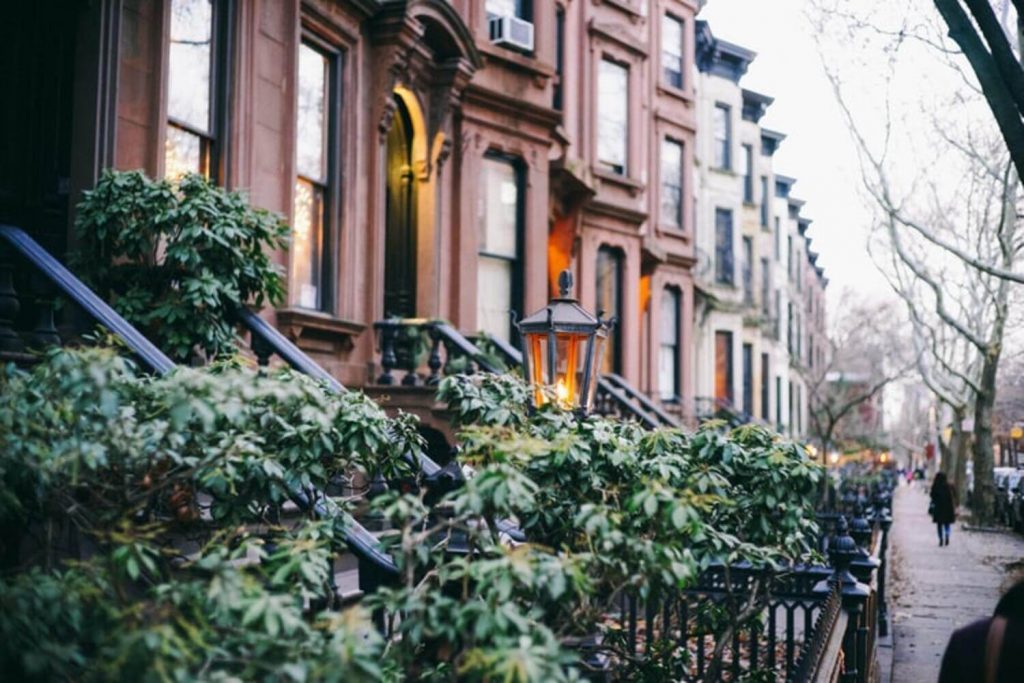 Williamsburg
This was one of Brooklyn's first hipster neighborhoods. But it's not free from all of the amenities associated with other 'expensive' areas around New York City. Many art galleries are open late into the night if you want to get some culture while there! Plus, there are plenty of fancy bar lounges where you can enjoy an upscale meal before heading out on the town. You can easily take advantage of both worlds here – affordable living and luxury.
Bedford-Stuyvesant
Referred to as Bed-Stuy by its locals, this neighborhood has the most Victorian-style architecture in the country. It's also known as Brooklyn's cultural epicenter for the African-American community. Most of them had come from the overcrowded Harlem neighborhood in the 1930s.
Brooklyn Heights
Brooklyn Heights is a neighborhood that sits on top of the Brooklyn Bridge and overlooks New York Harbor. It's got some cute cobblestone streets, luxury high-rise apartments with jaw-dropping views. And is home to all sorts of fabulous restaurants.
Bushwick
Bushwick has been undergoing an artistic renaissance over the last decade. More artists have discovered this cool affordable place to live between Williamsburg & Ridgewood. If you're looking for something edgy but still want convenience, then you should check out Bushwick. It's more affordable than its neighbors too.
Getting Around
While subways run 24 hours a day, relying on public transportation in Brooklyn can be challenging. It's become somewhat of a pastime for Brooklyn residents to complain about the Metropolitan Transport Authority. When moving to Brooklyn for the first time, you'll discover a few secrets about the subway lines. While the major lines are mostly reliable, the others can cause some frustrations if you're not used to the system. The F train, for example, lives up to its letter – let's just leave it to that.
Another popular method of getting around is the bus system. Brooklyn has about 55 bus routes that were streetcar routes that operated in the 30s and 50s. Of course, it's added a bunch of new routes since then. Although the subway is the primary mode of transport, the bus routes are the next best thing when you need to get somewhere the subways can't reach.
Everyone knows about the signature Yellow Cabs of New York City. What most people don't know is that these famous cabs mainly serve in Manhattan. For the outer boroughs like Brooklyn and the Bronx, you'll encounter primarily green cabs. But either way, with today's trend of ride-hailing services, locals tend to lean more towards Uber and Lyft to get around.
The Problem of Parking
If you're coming from outside of New York City proper, you'll probably own a car – maybe even two. As a newcomer to the Big Apple, you'll discover that the most significant issue of owning a car is parking. Many residents of Brooklyn opt to use the public transport system since everywhere is pretty much accessible. But there are many car owners in the borough.
Finding a parking space can be either a wark in the park or a complete nightmare, depending on which neighborhood you've chosen to settle in. In communities of mostly young professionals, biking or taking the train is the choice of transport. That means fewer car owners and more available parking spaces. But when you've settled into a family-friendly neighborhood, you'll find that parking space can become a fierce battle. A lot of your time will is spent circling the street multiple times.
Of course, you can also rent a paid parking space in a garage for assurance. But that can set you back anywhere between $200 to $300 a month. Not something you'll want to add on top of your monthly bills.
Imperial Movers Brooklyn, a local NYC moving and storage company, says parking is something to keep in mind when you're moving too. Moving companies know the ins and outs of NYC's parking situation and are better equipped to handle parking and other challenging aspects of a Big Apple move. You may be glad you hired movers when you consider how difficult it would be to park a U-Haul on Brooklyn's busy streets.
The Cost of Living in Brooklyn
The cost of living in Brooklyn will be a little more expensive than the rest of the outer boroughs. Of course, if you compare it to Manhattan or other pricey cities like San Francisco and Seattle, then Brooklyn can be considered more affordable.
But when compared with Queens or Staten Island? You might think that's where all the magic happens, but you're wrong. The average price for real estate per square foot is $690/square feet in Park Slope. But just across the East River in Bushwick Brooklyn, it's only at around $260/sqft, which means renting here will cost half as much too. And we haven't even touched on mortgage rates yet. Suffice to say, Brooklyn is not somewhere you'll want to move to if you're trying to keep a tight budget.
Brooklyn Weather
Like the rest of New York, Brooklyn gets all four seasons. Of course, it doesn't compare to the coldest winters or hottest summers of other cities in the country. But it's always a good idea to be prepared. New York is known to destroy walking shoes since residents do more walking than any other city. So when you're pounding the pavements of Brooklyn, you'll want the appropriate clothing.
Brooklyn also has some interesting climates. When it comes down to the weather, Park Slope and Carroll Gardens are some of the best places in terms of temperatures. Because they sit on top of hills, there's no ocean breeze or anything else that can bring out humidity. It stays pleasantly dry all year round.
Fun For The Whole Family
Brooklyn is never dull. Whether parks, museums, art galleries, restaurants, amusement, or shopping malls, you'll never run out of things to do. That's one reason it's the perfect place to raise a family. Because it's so diverse, you can be sure to find all kinds of people with different backgrounds and cultures. This allows your child to learn more about the world than they would in other parts of New York City.
The schools are also great. Brooklyn has some top-notch public schools and prestigious private institutions like Poly Prep Country Day School or Packer Collegiate Institute. Unfortunately, yearly tuition fees cost thousands upon thousands. You'll also never have problems finding daycare centers for babies and toddlers because everyone in Brooklyn wants their kids around them at work too.
Not For Everyone
Of course, not everything about Brooklyn is great. After all, it's the largest borough of the City that Never Sleeps. Although it may not be as busy as Manhattan on a weekday, Brooklyn is still pretty packed in terms of population density. Traffic isn't just exclusive to the urban jungle, either. You'll find yourself in a bit of traffic when you commute to Manhattan for work every day because the subways are so packed.
And if you want your kids to attend private school, it may still be tough considering how many people move into this area each year. However, some public schools rank high on state tests and offer gifted programs too. That's why we recommend moving here after having children instead of two years before they start kindergarten, as most New Yorkers do.
In the end, you'll have to decide if the cost of living and density is worth the trouble. Not to say it's a terrible place to live, many families have grown up in Brooklyn generation after generation. But it's a place that needs a lot of getting used to.
Don't worry though, for whatever reason you need to move to Brooklyn, and it won't take long for you to get settled in. And a reliable NYC moving company can make the transition so much easier for you.